This document is available as part of the Construction Information Service. The Construction Information Service brings together a comprehensive collection of essential technical documents from a wide range of publishers in one online package. Covering all aspects of building, engineering, design and construction, it provides its users with a single source for all their technical information needs. Contact us today to find out how to become a subscriber to this indispensable service.
Reservoir pavements for drainage attenuation (formerly HD 221/18). Version 0.1.0
DMRB: Drainage CD 531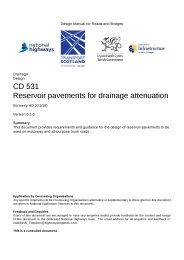 Document Status
Current
Supplement
Civil & Structural Supplement
Series
DMRB: Drainage
Abstract
Provides guidance for selection, design, installation, application and construction of reservoir pavements used as drainage attenuation. Covers hydraulic and structural design principles and includes a worked example and design configurations.
History
Drainage. Design. Supersedes CD 531. Reservoir pavements for drainage attenuation (formerly HD 221/18) (HE, 2020). Design manual for roads and bridges (DMRB). Version 0 dated Mar 2020 - replaces HD 221/18. Version 0.1.0 dated November 2021 - changes made to core document.
Subjects
Civil engineering, infrastructure and public utilities
Transport facilities
Road surface water drainage
Earthworks for roads
Roads
Publisher History
National Highways is a government company, with responsibility for operating, maintaining and improving motorways and major A roads in England. It works with the Department for Transport and was previously known as Highways England and Highways Agency.
---
Information
NBS
NBS has produced specification systems and information products for construction industry professionals for more than 40 years. The National Building Specification is the recognised UK national standard and is used by over 5,000 organisations. NBS is part of RIBA Enterprises Ltd.
IHS Markit
IHS Markit is a leading global source of critical information and insight for customers in a broad range of industries. Our customer product and service solutions span four major areas of information: energy, product lifecycle management, environmental and security. By focusing on our customers first, we deliver data and expertise that enable innovative and successful decision-making. Customers range from governments and multinational companies to smaller companies and technical professionals in more than 180 countries. IHS has been in business since 1959 and employs more than 3,500 people in 35 locations around the world.