This document is available as part of the Construction Information Service. The Construction Information Service brings together a comprehensive collection of essential technical documents from a wide range of publishers in one online package. Covering all aspects of building, engineering, design and construction, it provides its users with a single source for all their technical information needs. Contact us today to find out how to become a subscriber to this indispensable service.
Action in the case of non-conformity of concrete structures
Publication C519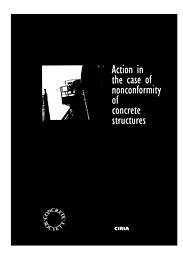 Document Status
Current
Supplement
Civil & Structural Supplement
Series
Publication
Abstract
Sets out basic principles for dealing with nonconformities. These provide a rational framework against which nonconformities can be verified/investigated, their significance can be assessed, appropriate remedies can be considered and recurrence can be avoided. Six key areas in which nonconformities frequently occur have been targeted in this report. These are: cover, inherent concrete quality, cracking, surface finishes, honeycombing and surface damage, and dimensional nonconformity. The report incorporates inter alia: flow charts setting out the decision-making process for dealing with the six types of nonconformity; lists of prompts for consideration when carrying out investigations or when selecting appropriate remedies; and typical examples of nonconformities. General advice on specifying to reduce nonconformities and avoid disputes is also provided.
ISBN
9780860175193
Subjects
Building structure
Concrete building systems/frame
Building systems/frame
Publisher History
CIRIA was formerly known as the Construction Industry Research and Information Association. They are a member-based research and information organisation who publish reports and technical papers covering building and civil engineering as well as transport and utilities infrastructure.
---
Information
NBS
NBS has produced specification systems and information products for construction industry professionals for more than 40 years. The National Building Specification is the recognised UK national standard and is used by over 5,000 organisations. NBS is part of RIBA Enterprises Ltd.
IHS Markit
IHS Markit is a leading global source of critical information and insight for customers in a broad range of industries. Our customer product and service solutions span four major areas of information: energy, product lifecycle management, environmental and security. By focusing on our customers first, we deliver data and expertise that enable innovative and successful decision-making. Customers range from governments and multinational companies to smaller companies and technical professionals in more than 180 countries. IHS has been in business since 1959 and employs more than 3,500 people in 35 locations around the world.