This document is available as part of the Construction Information Service. The Construction Information Service brings together a comprehensive collection of essential technical documents from a wide range of publishers in one online package. Covering all aspects of building, engineering, design and construction, it provides its users with a single source for all their technical information needs. Contact us today to find out how to become a subscriber to this indispensable service.
Building hardware - Electrically powered hold-open devices for swing doors - Requirements and test methods (incorporating Amendment No.1 and Corrigendum Nos. 1, 2 and 3)
BS EN 1155:1997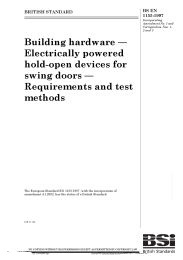 Document Status
Current
Supplement
Core Supplement
Series
BS EN
Abstract
Specifies requirements for separate hold-open devices and also for hold-open mechanisms incorporated in a door closer intended to be used on fire/smoke compartmentation doors.
History
Amendment 14075 dated 20 February 2003 - See revised national foreword. Amendment 14400 is Corrigendum No.1 dated 13 March 2003 - National foreword corrected. Amendment 14492 is Corrigendum No.2 dated 23 May 2003 - Corrections to 7.2.1, 7.2.8, 7.2.8.2 and 7.2.10. Amendment 16311 is Corrigendum No.3 dated 31 August 2006 - Corrections to clause 8 and ZA.3. Includes Annex ZA Provisions for CE Marking. This document is a candidate harmonized European Standard and takes into account the requirements of EC mandate M101 doors, windows, shutters, gates and related hardware. This standard is a hEN.
ISBN
0580283410
Subjects
Windows and doors
Doors
Door furniture
Publisher History
With over 100 years of experience the British Standards Institute is recognised as the UK's National standards body. Their committees work with the manufacturing and service industries, government, businesses and consumers to facilitate the production of British, European and International standards.
---
Information
NBS
NBS has produced specification systems and information products for construction industry professionals for more than 40 years. The National Building Specification is the recognised UK national standard and is used by over 5,000 organisations. NBS is part of RIBA Enterprises Ltd.
IHS Markit
IHS Markit is a leading global source of critical information and insight for customers in a broad range of industries. Our customer product and service solutions span four major areas of information: energy, product lifecycle management, environmental and security. By focusing on our customers first, we deliver data and expertise that enable innovative and successful decision-making. Customers range from governments and multinational companies to smaller companies and technical professionals in more than 180 countries. IHS has been in business since 1959 and employs more than 3,500 people in 35 locations around the world.