This document is available as part of the Construction Information Service. The Construction Information Service brings together a comprehensive collection of essential technical documents from a wide range of publishers in one online package. Covering all aspects of building, engineering, design and construction, it provides its users with a single source for all their technical information needs. Contact us today to find out how to become a subscriber to this indispensable service.
Operating Theatre Ultra Clean Ventilation (UCV) canopies fitted with gel seal HEPA filters
Welsh Government Estates and Facilities Alert 2016/004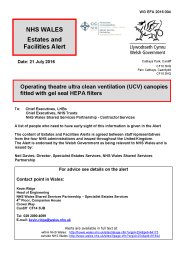 Document Status
Current
Supplement
Core Supplement
Series
Welsh Government Estates and Facilities Alert
Abstract
Gives information on the issue of gel from the HEPA filter seal dripping from the Ultra Clean Ventilation (UCV) canopy diffuser screen. Details the problem found and the action that should be taken.
History
Dated 21 July 2016. Valid to: 21 July 2022. Estates and Facilities Alert content is agreed between staff representatives from the four NHS administrations and issued throughout the United Kingdom. Endorsed by the Welsh Government as being relevant to NHS Wales. Issued by NHS Wales Shared Services Partnership.
Subjects
Air conditioning/ventilation
Building services
Publisher History
NHS Wales Shared Services Partnership provide advice to the Welsh Government on strategic issues and support to the NHS on the delivery of their operational plans.
---
Information
NBS
NBS has produced specification systems and information products for construction industry professionals for more than 40 years. The National Building Specification is the recognised UK national standard and is used by over 5,000 organisations. NBS is part of RIBA Enterprises Ltd.
Accuris
We connect trusted knowledge to customers' workflows – mitigating risk, increasing efficiency and accelerating innovation For more than 60 years, leading R&D and engineering-intensive organizations have relied on us to achieve on-time, on-budget delivery of complex projects and new products. We deliver an unparalleled combination of technical content and Artificial Intelligence (AI) technologies to surface answers from the vast universe of technical knowledge, both inside and outside the organization. In a single interface, we connect the dots between information scattered across many different sources, allowing technical professionals to make better, more informed decisions faster.