This document is available as part of the Construction Information Service. The Construction Information Service brings together a comprehensive collection of essential technical documents from a wide range of publishers in one online package. Covering all aspects of building, engineering, design and construction, it provides its users with a single source for all their technical information needs. Contact us today to find out how to become a subscriber to this indispensable service.
Firecode - fire safety in the NHS. Laboratories on healthcare premises
Welsh Health Technical Memorandum 05-03 Part G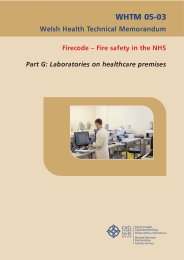 Document Status
Current
Supplement
Core Supplement
Series
Welsh Health Technical Memorandum
Abstract
Guidance on fire safety where laboratory facilities are established on hospital premises, with organisational and managerial advice on accountability for fire safety, fire safety policy, emergency plans and staff training.
ISBN
9781909899285
Subjects
Building types
Special subject areas
Fire
Fire precautions in specialised facilities
Health buildings/hospitals
Fire protection
Publisher History
NHS Wales Shared Services Partnership provide advice to the Welsh Government on strategic issues and support to the NHS on the delivery of their operational plans.
---
Information
NBS
NBS has produced specification systems and information products for construction industry professionals for more than 40 years. The National Building Specification is the recognised UK national standard and is used by over 5,000 organisations. NBS is part of RIBA Enterprises Ltd.
IHS Markit
IHS Markit is a leading global source of critical information and insight for customers in a broad range of industries. Our customer product and service solutions span four major areas of information: energy, product lifecycle management, environmental and security. By focusing on our customers first, we deliver data and expertise that enable innovative and successful decision-making. Customers range from governments and multinational companies to smaller companies and technical professionals in more than 180 countries. IHS has been in business since 1959 and employs more than 3,500 people in 35 locations around the world.