This document is available as part of the Construction Information Service. The Construction Information Service brings together a comprehensive collection of essential technical documents from a wide range of publishers in one online package. Covering all aspects of building, engineering, design and construction, it provides its users with a single source for all their technical information needs. Contact us today to find out how to become a subscriber to this indispensable service.
Obesity and the built environment
CIS In brief 02/2018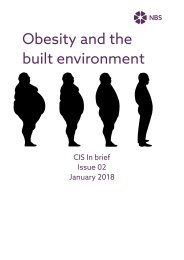 Document Status
Current
Supplement
Core Supplement
Series
CIS In brief
Abstract
In our increasing focus on the problem of obesity in the western world, rarely do we delve into the role that the built environment plays. However, it is the built environment that serves as the backdrop for healthy vs unhealthy living. By making simple changes in the way we plan, we can eliminate some of the key factors that are fuelling our venture into an increasingly overweight society.
Author
Sharman, J.
Subjects
Planning and development
Strategic planning
General design information
Accessible environments
Urban planning
Transport planning
Publisher History
NBS are committed to offering distinctive, innovative specification and information solutions to construction industry professionals and are proud to be leading the construction industry in its digital evolution. Their roots lie in the UK's National Building Specification and for nearly 50 years has been helping the construction industry build better and with lower risk. Their future lies in cloud-based technologies and connected data, as they fast become the information marketplace for the global construction industry.
---
Information
NBS
NBS has produced specification systems and information products for construction industry professionals for more than 40 years. The National Building Specification is the recognised UK national standard and is used by over 5,000 organisations. NBS is part of RIBA Enterprises Ltd.
IHS Markit
IHS Markit is a leading global source of critical information and insight for customers in a broad range of industries. Our customer product and service solutions span four major areas of information: energy, product lifecycle management, environmental and security. By focusing on our customers first, we deliver data and expertise that enable innovative and successful decision-making. Customers range from governments and multinational companies to smaller companies and technical professionals in more than 180 countries. IHS has been in business since 1959 and employs more than 3,500 people in 35 locations around the world.