This document is available as part of the Construction Information Service. The Construction Information Service brings together a comprehensive collection of essential technical documents from a wide range of publishers in one online package. Covering all aspects of building, engineering, design and construction, it provides its users with a single source for all their technical information needs. Contact us today to find out how to become a subscriber to this indispensable service.
Conservation of fuel and power in new buildings other than dwellings (2013 edition incorporating 2016 amendments) (For use in England) (Superseded)
Building Regulations 2010: Approved Documents L2A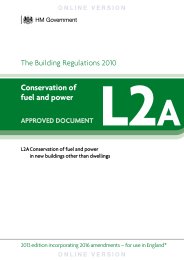 Document Status
Withdrawn
Supplement
Core Supplement
Series
Building Regulations 2010: Approved Documents
Abstract
Provides practical guidance for complying with building regulation requirements for energy efficiency in new buildings other than dwellings. Covering the requirements, design standards, quality, information and model designs.
History
Superseded by Building Regulations 2010: Approved Documents L-2 Conservation of fuel and power. Volume 2: Buildings other than dwellings (HMG, 2021) on 15/06/2022. Came into effect 6 April 2014. This approved document gives guidance for compliance with the Building Regulations for building work carried out in England. It also applies to building work carried out on excepted energy buildings in Wales as defined in the Welsh Ministers (transfer of functions) (No. 2) order 2009. This approved document also gives guidance applying to buildings of statutory undertakers and of the Crown or carried out by Crown authorities in both England and Wales in respect of regulations 25, 25a, 25b and 26. See inside front cover for details of the main changes in the 2013 edition including changes made by the 2016 amendments.
ISBN
9781859467459
Subjects
Legal issues and management
Special subject areas
Environmental issues/energy
Thermal insulation
Building control
Building control, England
Energy efficiency/Energy Management
Publisher History
NBS are committed to offering distinctive, innovative specification and information solutions to construction industry professionals and are proud to be leading the construction industry in its digital evolution. Their roots lie in the UK's National Building Specification and for nearly 50 years has been helping the construction industry build better and with lower risk. Their future lies in cloud-based technologies and connected data, as they fast become the information marketplace for the global construction industry.
---
Information
NBS
NBS has produced specification systems and information products for construction industry professionals for more than 40 years. The National Building Specification is the recognised UK national standard and is used by over 5,000 organisations. NBS is part of RIBA Enterprises Ltd.
IHS Markit
IHS Markit is a leading global source of critical information and insight for customers in a broad range of industries. Our customer product and service solutions span four major areas of information: energy, product lifecycle management, environmental and security. By focusing on our customers first, we deliver data and expertise that enable innovative and successful decision-making. Customers range from governments and multinational companies to smaller companies and technical professionals in more than 180 countries. IHS has been in business since 1959 and employs more than 3,500 people in 35 locations around the world.