This document is available as part of the Construction Information Service. The Construction Information Service brings together a comprehensive collection of essential technical documents from a wide range of publishers in one online package. Covering all aspects of building, engineering, design and construction, it provides its users with a single source for all their technical information needs. Contact us today to find out how to become a subscriber to this indispensable service.
NHBC Technical newsletter - July 2012
Technical Extra 07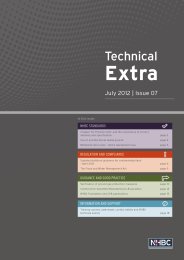 Document Status
Current
Supplement
Core Supplement
Series
Technical Extra
Abstract
Subdivided into four sections: NHBC Standards; regulation and compliance; guidance and good practice; information and support. Includes updates on pitched roofs and the importance of correct detailing and specification (NHBC Standards Chapter 7.2), use of aircrete blocks below ground, multipoint door locks. Also contains updated statutory guidance for contaminated land, as well as articles on the Flood and Water Management Act, verification of ground gas protection measures, the Construction Glassfibre Manufacturers Association, NHBC Foundation and CPA publications. Also includes details of the latest training courses, downloads, contact details and NHBC technical events.
History
Technical Extra publication replaces Standards Extra and Sustainability Extra.
Subjects
Standards/glossaries/reports
Reports
Legal issues and management
Publisher History
Formed in 1936, the NHBC is the standard setting body for new and newly converted homes in the UK.
---
Information
NBS
NBS has produced specification systems and information products for construction industry professionals for more than 40 years. The National Building Specification is the recognised UK national standard and is used by over 5,000 organisations. NBS is part of RIBA Enterprises Ltd.
IHS Markit
IHS Markit is a leading global source of critical information and insight for customers in a broad range of industries. Our customer product and service solutions span four major areas of information: energy, product lifecycle management, environmental and security. By focusing on our customers first, we deliver data and expertise that enable innovative and successful decision-making. Customers range from governments and multinational companies to smaller companies and technical professionals in more than 180 countries. IHS has been in business since 1959 and employs more than 3,500 people in 35 locations around the world.