This document is available as part of the Construction Information Service. The Construction Information Service brings together a comprehensive collection of essential technical documents from a wide range of publishers in one online package. Covering all aspects of building, engineering, design and construction, it provides its users with a single source for all their technical information needs. Contact us today to find out how to become a subscriber to this indispensable service.
Reinforced bitumen membranes for roofing - Code of practice
BS 8217:2005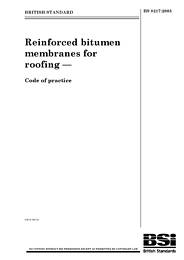 Document Status
Current
Supplement
Core Supplement
Series
BS
Abstract
Gives recommendations for the selection of reinforced bitumen membranes. These can be used to reinforce bitumen membrane roofs. The can be applied to flat and sloping roofs, on both new and existing roofs, subject to confirmation of the suitability of the existing construction. Recommendations are also given for mechanically fastened single-layer reinforced bitumen membranes, torch-applied bitumen membranes and self-adhesive reinforced bitumen membranes.
History
Supersedes BS 8217:1994.
ISBN
058045116X
Subjects
Felt/flexible sheets
Built-up felt roof coverings
Coverings and surface finishes
Waterproofing/damp proofing
Publisher History
With over 100 years of experience the British Standards Institute is recognised as the UK's National standards body. Their committees work with the manufacturing and service industries, government, businesses and consumers to facilitate the production of British, European and International standards.
---
Information
NBS
NBS has produced specification systems and information products for construction industry professionals for more than 40 years. The National Building Specification is the recognised UK national standard and is used by over 5,000 organisations. NBS is part of RIBA Enterprises Ltd.
Accuris
We connect trusted knowledge to customers' workflows – mitigating risk, increasing efficiency and accelerating innovation For more than 60 years, leading R&D and engineering-intensive organizations have relied on us to achieve on-time, on-budget delivery of complex projects and new products. We deliver an unparalleled combination of technical content and Artificial Intelligence (AI) technologies to surface answers from the vast universe of technical knowledge, both inside and outside the organization. In a single interface, we connect the dots between information scattered across many different sources, allowing technical professionals to make better, more informed decisions faster.